Leona E. Ruhs, 95, of Blue Hill died Thursday March 26, at Good Samaritan society-Hastings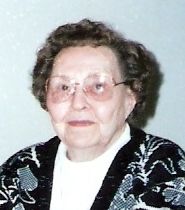 Village, (Perkins Pavilion) Hastings, Nebraska.
Leona was born on March 5, 1920, near Rosemont Nebraska to John and Anna (Johnson) Buss.
She married Ivan L. Ruhs on Sept. 7, 1941. He preceded her in death.
Survivors of the immediate family include a brother, Melvin Buss of Hastings.
Also surviving are 15 nieces and nephews.
She was baptized and confirmed at Trinity Lutheran Church in Blue Hill.
Leona attended school at Plum Valley east of Blue Hill and Lampman School south of Rosemont. She graduated from Trinity Lutheran School in Blue Hill.
On Feb. 25, 1943, their daughter, Phyllis, was born. Ivan's career with Tractor Supply took them to Kearney, Kansas City, Mo. and finally Peoria, Ill. She worked in various jobs at these locations. Following Ivan's death, she moved to Blue Hill in 1990.
The role most important to Leona was caregiver for her parents, siblings, husband and daughter. Leona enjoyed needlework, gardening and cooking.
She had a strong faith in God and modeled it to all those who knew her. Leona was a member of Trinity Lutheran Church in Blue Hill.
In addition to her husband, Leona is preceded in death by her parents; daughter and son-in-law, Phyllis and Marshall Grimshaw; two brothers, Arthur and Harold Buss; and three sisters, Adeline Goos, Evelyn Magarin and Maybel Scheiding.
Memorials can be directed to Trinity Lutheran Church; Shriners Hospital for Children, 2025 E. River Parkway, Minneapolis, MN 55414; and Children's Hospital and Medical Center Foundation, 8200 Dodge St., Omaha, NE 68114.


Services were Monday at Trinity Lutheran Church in Blue Hill, with the Revs. Joshua Lowe and James Witt officiating. Burial was in Trinity Lutheran Cemetery at Blue Hill.